Noh Theatre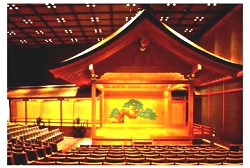 With a seating capacity of up to 500, the multi-purpose Noh theatre / auditorium provides an excellent facility for all types of performances, lectures, international meetings, and other events in addition to the traditional Japanese Noh drama. The theatre includes film projection equipment, a traditional Noh stage whose column can be removed for an unobstructed view of the stage, and simultaneous interpretation facilities.
Reception Hall
A stage, film projection equipment, and simultaneous interpretation facilities make the reception hall ideal for hosting parties, meetings, and other performances.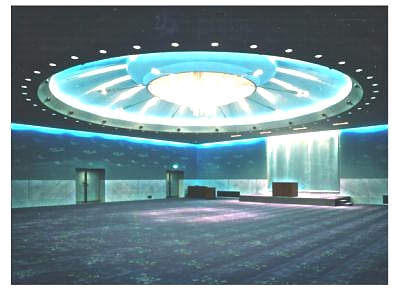 Conference Rooms
With simultaneous interpretation facilities, the conference rooms can host both domestic and international meetings.
Conference rooms 1 and 2 contain tables and chairs that can be freely arranged.
Conference rooms 3 and 4 are more richly furnished with an oblong table.
Conference Room 1,2

Conference Room 3,4
Meeting Rooms, Drawing Rooms, Special Drawing Rooms, Waiting Rooms
Designed to accommodate approx.10 persons each, these rooms offer a beautiful view of a traditonal Japanese garden.
Meeting Room 3

Drawing Room

Special Drawing Room
Japanese Garden
A party can be organized in the spacious garden. Our Japanese style garden, 33,000m², has the views of Mt. Mikasa, Kasuga, and Wakakusa, whose combined scenery is unique to Nara and provides a beautiful background. In the evening, the lights make the garden more attractive.